---
Annual General Meeting
Monday June 14th
Send an email to the club at
stouffvilleskateclub@gmail.com
to be sent the zoom link.
Our Annual General Meeting will take place via zoom on Monday, June 14th at 7:00pm. This meeting will recap the most unusual skating season to date and our hopes going forward. It is a great opportunity to learn more about how the club runs. We do have a paid office administrator and we are looking to grow the office to take on more of the ongoing tasks but otherwise, we rely on volunteers to be part of the executive. The following roles help shape and grow our club.
President
Vice President
Treasurer
Test Chair
Secretary
Coach Liaison
Town Liaison
Covid Protocol Coordinator (new)
Special events Coordinator
Program Assistant Coordinator
Many of these roles will become vacant as a large number of skaters and their parent volunteers are graduating. One role that we are in urgent need of filling is the Treasurer. If you have any experience in this area and would be interested in volunteering please email the club and I would be happy to talk to you about what the role entails. If you have an interest in joining the team in one of the above roles or a member at large please email the club we would love to reach out to you ahead of the meeting. We will also be posting descriptions of these roles on the website later this week.
We look forward to getting back to the ice and hope that the fall brings a safe and smooth return to skating. This will be a big year and fingers crossed for our 50th Ice Show next May.
Send an email to the club at stouffvilleskateclub@gmail.com to be sent the zoom link.
****Due to current restrictions, our admin team will be working remotely.****
For any and all inquires, please email us at stouffvilleskateclub@gmail.com
2020/2021
REGISTRATION UPDATE
LINK TO ARENA PROTOCOLS
Stouffville Skating Club Covid Protocols.pdf
CANSKATE REGISTRATION for Fall 2020 is closed
CANSKATE:
Due to thorough cleaning between all sessions we have limited Ice time this fall. There is also a limit to how many can be on the ice, and in the building. Social distancing protocols will be in place on the ice therefore we will not be able to accommodate new skaters and skaters working on Canskate Badges 1 or 2 or Precan.
Stouffville Skating Club Fall 2020 Schedule Sept 9.pdf
The Stouffville Skating Club Team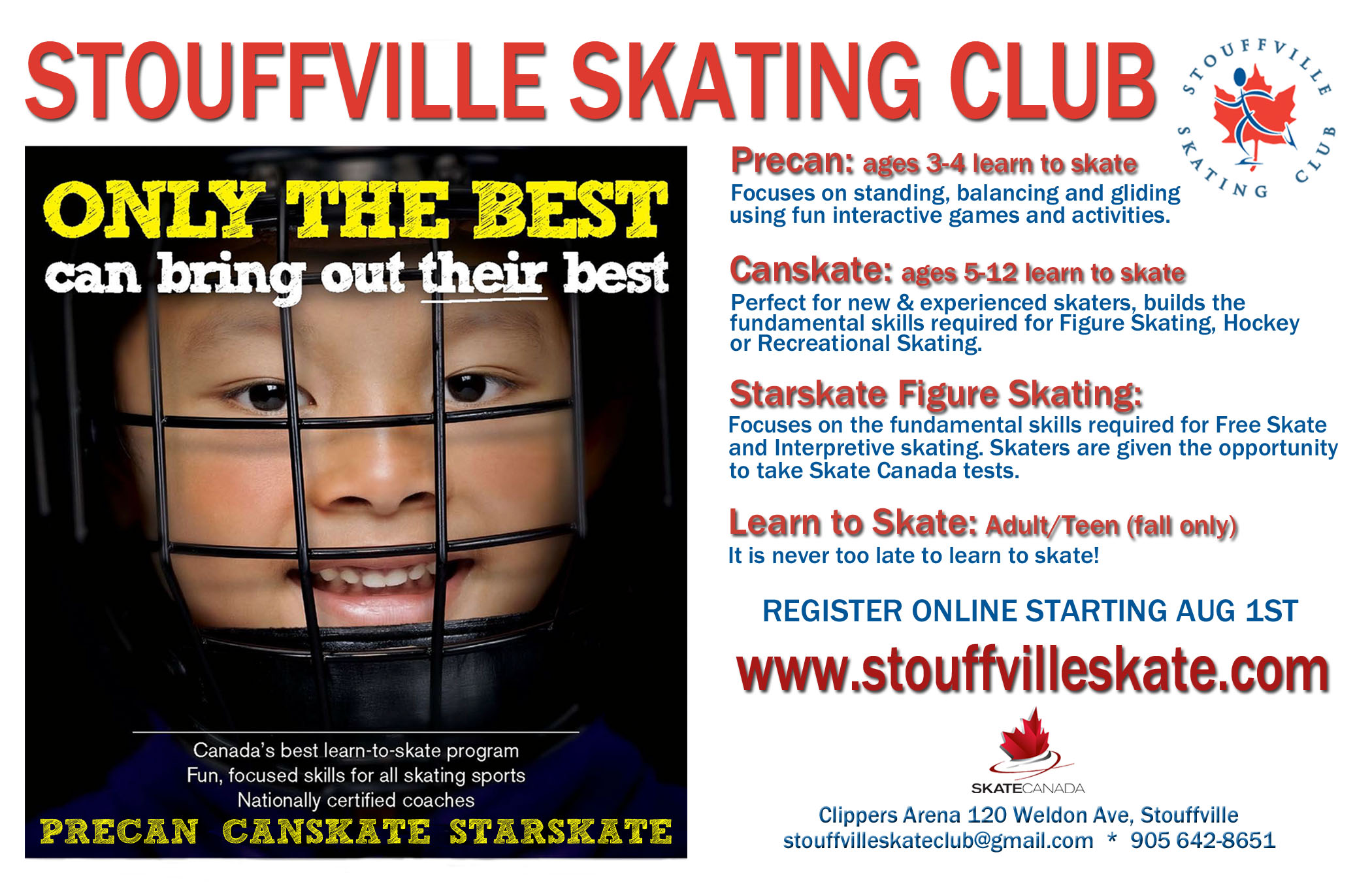 Rowan's Law
The below link will take you to an e-booklet which is part of a series of Rowan's Law concussion awareness resources. Rowan's Law was named for Rowan Stringer, a high school rugby player from Ottawa, who died in the spring of 2013 from a condition known as second impact syndrome (swelling of the brain caused by a subsequent injury that occurred before a previous injury healed).
Rowan is believed to have experienced three concussions over six days while playing rugby. She had a concussion but didn't know her brain needed time to heal. Neither did her parents, teachers or coaches.
These resources are not intended to provide medical advice relating to health care. For advice on health care for concussion symptoms, please consult with a physician or nurse practitioner.
Please read before registering as you will be asked to sign off that you have read it.
Welcome to Canskate! The following link details the skills required for each of the 3 ribbons in each of the 5 badges in Canskate. Badge 6 is part of our Junior program.