---
2020/2021
REGISTRATION Sept 14th UPDATE
STARSKATE STARTS TODAY!
LINK TO ARENA PROTOCOLS
Stouffville Skating Club Covid Protocols.pdf
CANSKATE REGISTRATION has started!
ALL SESSIONS STILL HAVE SPACE BUT YOU HAVE TO JOIN THE
WAITLIST TO BE INVITED TO REGISTER.
Badge 3, 4 and 5 ONLY
Friday 6:35-7:25 5 spots
Thursday 6:35-7-25 7 spots
Tuesday 6:35-7:25 7 spots
Saturday 10:25-11:15am 10 spots
PLEASE DO NOT ADD A SKATER TO MORE THAN ONE LIST
UNLESS YOU INTEND TO SKATE 2 DAYS.
PLEASE ONLY ADD SKATERS THAT ARE ALREADY WORKING ON BADGE 3, 4 OR 5
SKATERS THAT DO NOT QUALIFY WILL BE TAKEN OFF THE WAIT LIST.
WE REALLY HOPE TO BE ABLE TO OFFER BADGE 2 SOON.
ONCE ON A WAIT LIST YOUR INVITE TO REGISTER WILL GO OUT EACH NIGHT AT MIDNIGHT.
THE SPACE IS HELD FOR YOU FOR 2 DAYS, NO NEED TO STAY UP LATE.
ONCE YOU GET THE INVITE TO REGISTER, PLEASE DO SO ASAP
SO WE KNOW HOW MANY SPOTS WE HAVE LEFT TO OFFER.
CANSKATE:
Due to thorough cleaning between all sessions we have limited Ice time this fall. There is also a limit to how many can be on the ice, and in the building. Social distancing protocols will be in place on the ice therefore we will not be able to accommodate new skaters and skaters working on Canskate Badges 1 or 2 or Precan We are hoping to be able to offer it in January and will update as we can.
Canskate will receive instructions on COVID Protocols by email. Please opt in.
The start date is Sat Sept 19th.
Junior, Intermediate and Senior registration is almost complete. Many of the sessions are full but we have added new ones as well. Please look at the schedule and let us know if you wold like to request a change.
Stouffville Skating Club Fall 2020 Schedule Sept 9.pdf
The Stouffville Skating Club Team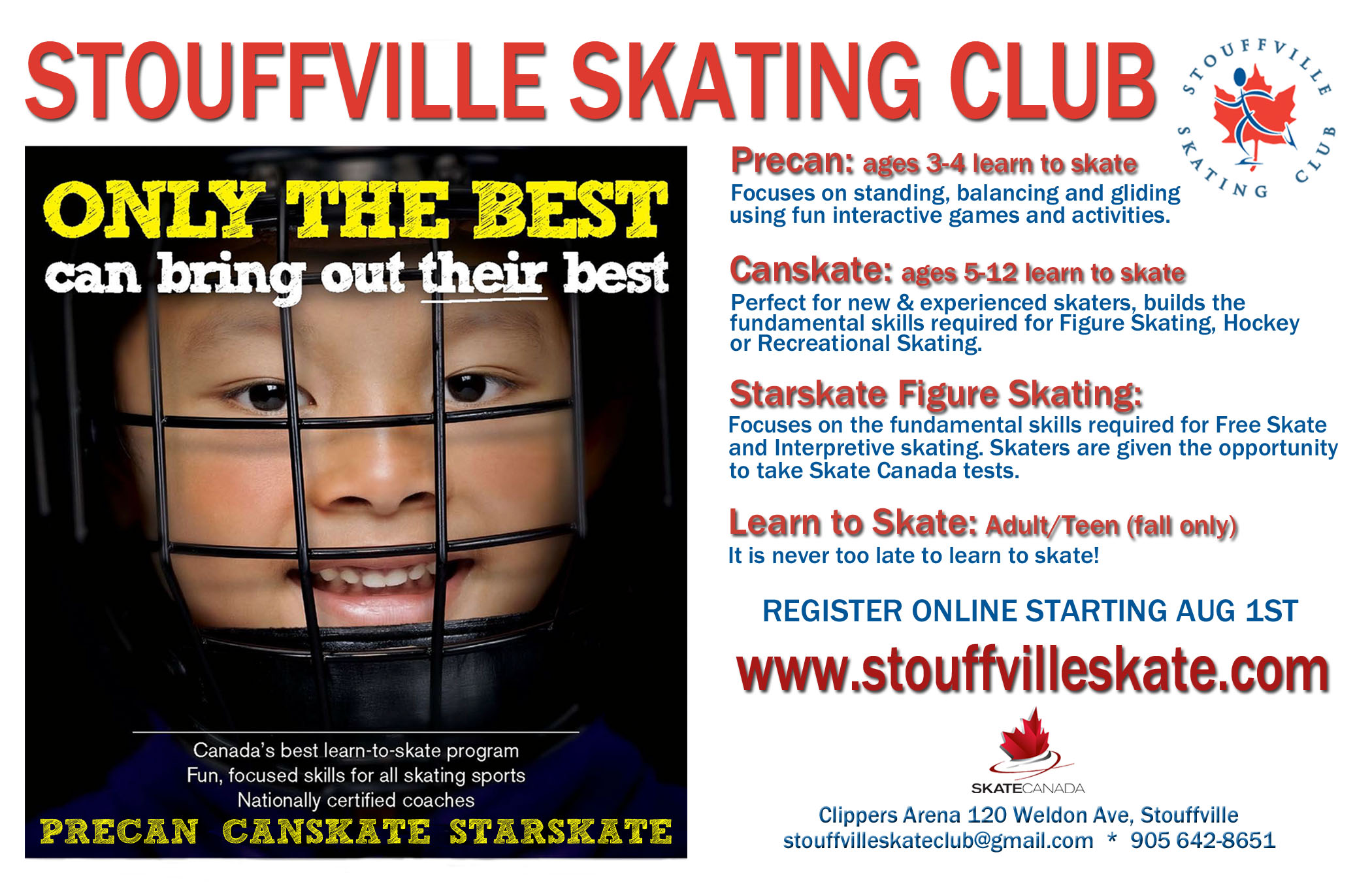 Rowan's Law
The below link will take you to an e-booklet which is part of a series of Rowan's Law concussion awareness resources. Rowan's Law was named for Rowan Stringer, a high school rugby player from Ottawa, who died in the spring of 2013 from a condition known as second impact syndrome (swelling of the brain caused by a subsequent injury that occurred before a previous injury healed).
Rowan is believed to have experienced three concussions over six days while playing rugby. She had a concussion but didn't know her brain needed time to heal. Neither did her parents, teachers or coaches.
These resources are not intended to provide medical advice relating to health care. For advice on health care for concussion symptoms, please consult with a physician or nurse practitioner.
Please read before registering as you will be asked to sign off that you have read it.
Welcome to Canskate! The following link details the skills required for each of the 3 ribbons in each of the 5 badges in Canskate. Badge 6 is part of our Junior program.